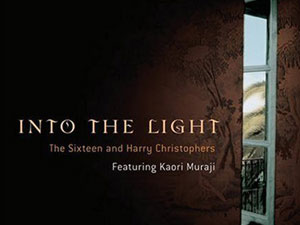 Into the Light--The Sixteen and conductor Harry Christophers
See and hear this review by Julie Amacher of Minnesota Public Radio.
A little of the review:
On this latest release, "Into the Light," The Sixteen are joined by classical guitarist Kaori Muraji, an award-winning performer from Japan. By their own account, these musicians were thrilled to make this recording together. Their combined enthusiasm generates moving music t

Publish Post

hat spans the great European choral tradition. Add to that the gentle simplicity of the classical guitar and you have a unique choral album that lives up to its title; it transports you "Into the Light," to an inspirational place that opens a window beyond the mundane.

Bob Chilcott, formerly of the King's Singers, arranged several works specifically for this recording. One of my favorites is an abbreviated version of the famous Pachelbel Canon. Chilcott turns this familiar instrumental piece into a prayer for the dead by adding text from a poem by Oscar Wilde, titled "Requiescat." Kaori Muraji's delicate guitar accompaniment guides The Sixteen through this heartfelt prayer.

"God Grant we Grace" is a blessing from a hymn by 16th-century English church composer Thomas Tallis. The mixed voices of The Sixteen blend beautifully in this touching canon. Harry Christophers conducts a slow, yet sweeping tempo. Once again, he lifts the listener "Into the Light" to a mystical place beyond this world.
Full review here.