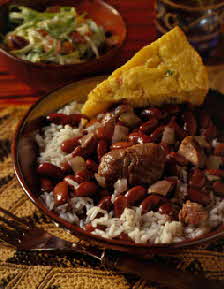 I grew up in Natchez, MS . . . right across the river from Louisiana, where the world is different. At the time, I didn't realize how influenced I was by the Cajun flavors in food. There aren't many places to find Cajun food in Birmingham, I've discovered.
We found some fantastic Red Beans & Rice last night at Jubilee Joe's, right off I459 at the Hwy 150 exit. There's a
review here
. We got gumbo and the redbeans, and we both thought that the bean dish was one of the best we'd ever had. Highly recommended.
Why is this appearing on my choir blog? I don't know. Maybe it's the need to tell my students about something I like or a place in Birmingham that they may not know about. I'm resisting the urge to make a joke about another possible
relation
between
singing and beans
.